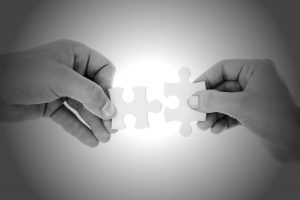 If you're a small business, how do you connect Thing 1 to Thing 2? These are the kinds of projects that get us excited at Wimborne Business Systems because it can be relatively simple to add real value to our customers by making two systems work together. In the industry these are called "integration projects".
Examples of small scale integration projects we've delivered in the last year have involved connecting up these services and databases:
Facebook
Outlook
Xero
MailChimp
bookwhen.com
Sage
Our own CRM product
Slack
WordPress
Esendex
In some cases we will use an API or ODBC. But it's sometimes a case of just wiring up a to a service like IFTTT or Zapier.
And this week two more opportunities for connecting things together have come in, so we're looking at starting some more integration projects very soon.
Here are some tips for a successful web integration project
Define clear goals.
Define clear goals for what you want the final result to achieve. Keep it simple, set realistic goals. You're not going to get the most complicated project completed with all the bells and whistles in the first draft. Get the simple things working first then think bigger for the next phase.
Break down the project into specific parts.
Phasing the development into clearly defined areas with goals means you can clealy define timescales and financial demands and also keeps down time to a minimum so putting your business through as little disruption as possible and allows you to quantify the results.